Fall Karting League After Dark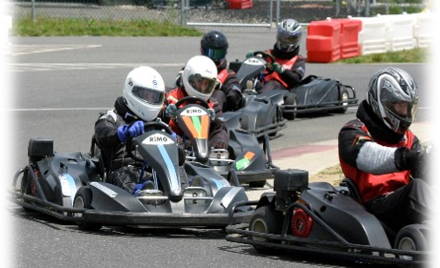 New Jersey Motorsports Park - Karting
Friday, October 27, 2023
NJMP Tempest Raceway
,
Millville

,

NJ
Registration closed October 26, 2023 11:59 PM at 2023-10-26T20:59:00-0700 Registration ends October 26, 2023 11:59 PM at 2023-10-26T20:59:00-0700 Registration opens August 30, 2023 12:00 AM at 2023-08-29T21:00:00-0700 Registration runs from August 30, 2023 12:00 AM to October 26, 2023 11:59 PM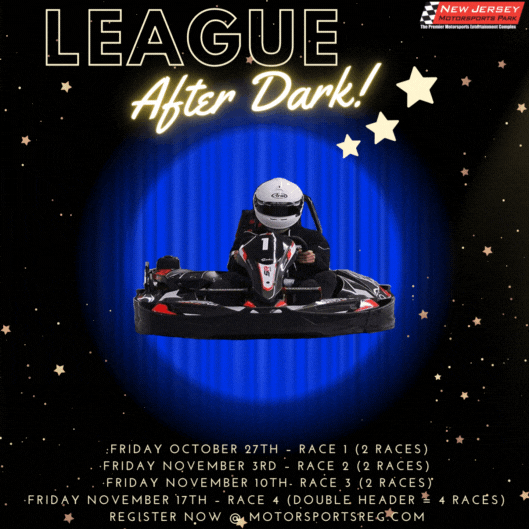 Tempest Raceway is hosting our first Fall Go-Karting League in the Dark in 2023! Participants will use NJMP rental karts, included with the registration fee, and race under the lights at our Avenger Track.
The final and last league in 2023 League will be a 10-race Championship (two races per round, except for last race). The registration fee is $400 per 10-race Championship. The Rental Kart League will be capped at 15 entrants per round and the spots are on a first-come basis. Karts will be selected at random during the mandatory drivers meeting.
All races are 16 laps. Each driver who wins one of the two races per round will be awarded at the end of the night during podium celebrations. Points will be awarded all throughout the field of competitors for championship points calculation.
League Members may add a $15 warm-up session on race dates based upon availability.
Race Times begin at 7pm. You should arrive by 6:30pm
Friday October 27th – Race 1 (2 Races)
Friday November 3rd – Race 2 (2 Races)
Friday November 10th- Race 3 (2 Races)
Friday November 17th – Race 4 (Double Header = 4 Races!)
All races include the following:
10 Min Practice Session
12 Lap Qualifying (Based on Fastest Lap Time)
16 Lap Race #1 (Based on Position)
16 Race #2 ( Based on Position)
ALL DATES WEATHER PERMITTING. In the case of unpredicted weather, a rain date will be presented.
Points Structure for Championship:
Position Points Awarded Position Points Awarded
1 200 11 75
2 175 12 70
3 155 13 65
4 140 14 60
5 130 15 55
6 120 16 50
7 110 17 45
8 100 18 40
9 90 19 35
10 80 20 30
Rules:
● The drivers meeting is mandatory and will start at 6:45pm sharp. There will be a random roll call and any driver not in attendance will start in the rear of the first race.
● The start will be a single file rolling start. Each driver may accelerate at the wave of the green flag. You cannot pass the kart in front of you until you cross start/finish line. You cannot step out of line before start/finish. Jump starts will result in a black flag stop and go penalty.
● All penalties will be either a black flag stop and go or a final position change.
● Rough driving will not be tolerated and may result in the loss of driving privileges. Rough driving will be assessed by the track officials and the race director. If you move a kart out of the way and gain that position, you can either give the position back and receive no penalty (you have 1 lap to do this), or we will manually move your finishing position behind the finishing position of the kart you moved.
● No blocking. You may make one move in advance of the kart(s) behind you. You cannot move back across the track after you have made your move. You cannot run someone off the track that is beside you on a straightaway.
● No passing in parts of track with local yellows
● If you have an open black flag directed at you, you must come into pit lane for a stop and go penalty.
● Repeated four wheels off will result in a black flag and you must come in for a stop and go penalty
● Concrete run-off is not considered part of the racing surface
● Pit Lane speed- 5 mph
● Bad behavior and/or foul language will not be tolerated, and any person involved will be asked to leave the premises